Meet Henry the ski patrol dog in this video.  Henry, the first and most famous of Vail's canine employees, is owned by Assistant Ski Patrol Director, Chris "Mongo" Reeder. Skiers and snowboarders often see Henry on the mountain greeting and playing with guests, but when work demands it, Henry, and the other dogs, are pivotal in rescue processes.
Source: National Ski Patrol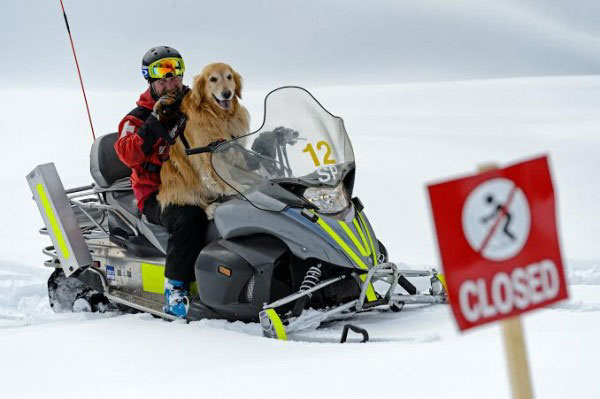 Some information about Henry.
Henry was Vail Ski Patrol's first avalanche rescue dog.
He is a golden retriever from Michigan.
Henry is trained to ride chairlifts, snowmobiles, ski patrol toboggans and in a helicopter
He has helped train 2 other ski patrol dog handlers
In the off season Henry stays with his handler and is an ordinary dog except when he is used for emergency situations
About The Training:
The training process for the dogs begins when they are puppies and continues throughout their service careers. It is a glorified game of hide and seek and their final exam in Colorado is called the CRAD A Level test. Henry was the first dog to pass this exam at Vail.
Part of the training involve simulating avalanche events.
Vail Ski Patrol conducts drills with the avalanche rescue dogs by placing volunteer victims in a snow cave with the dogs' favorite toy. The location of the burial is usually unknown to the dog so they are forced to use their sense of smell to locate the victim and their toy. After locating the victim and digging their way into the snow cave the victims are instructed to very enthusiastically play tug of war with the dogs, which is their favorite game and the reward for locating the buried volunteer. This is the only time that the dogs are allowed to play their favorite game in the world and we conduct many different styles of drills to increase this "victim loyalty." – Assistant Ski Patrol Director, Chris "Mongo" Reeder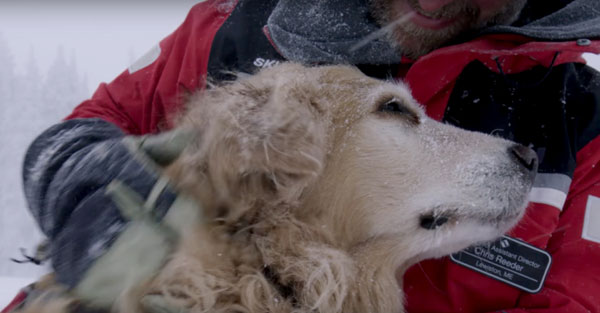 Are you looking for a dog? Why not get a rescue dog? Try PetFinder.com.
Take a look at another mountain dog on Ripley. Click Here >