This intelligent black Labrador brings a leaf to the store every day to buy himself a tasty treat.
For the past 5 years or so, the campus of Colombia's Diversified Technical Education Institute of Monterrey Casanare has become the home to a black dog named Negro. Negro has become somewhat of an unofficial mascot and guardian to the students. This black lab is cared for by the school's faculty who give him water, food and a whole lot of love. Most importantly, they give him a safe place to spend the night.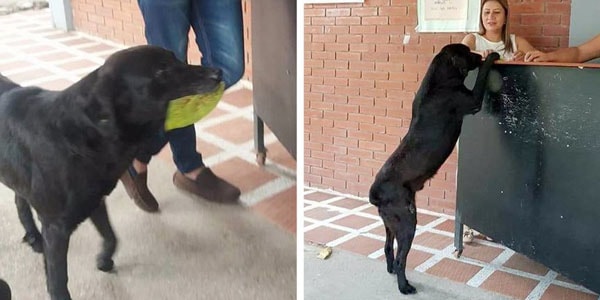 Negro, being the smart dog he is discovered a little store on campus where students could buy things on their breaks. Sometimes, he'd even be fortunate enough to have a cookie bought for him. Negro noticed that the students gave something every time they received their treats. Then one day, spontaneous, he appeared with a leaf in his mouth, wagging his tail and letting it be known that he wanted a cookie. The staff couldn't resist and they gave him a cookie in exchange for the leaf. Negro has been using this technique now for a few years. The school staff has made sure he's only getting treats that are safe for dogs. Of course, they do limit his purchases to just a couple of cookies a day. They don't want him to start gaining weight.
Watch The Video Of The Dog Bringing The Leaf To Pay For Treats
Source: Life Stories
Are you looking for a dog? Why not get a rescue dog? Try PetFinder.com.
See other Amazing Dogs on Ripley. CLICK HERE for Amazing Dogs!