Below are videos of smart dogs filling up kiddie pools for their own enjoyment. These are smart dogs that know how to get the job done and then have a good time.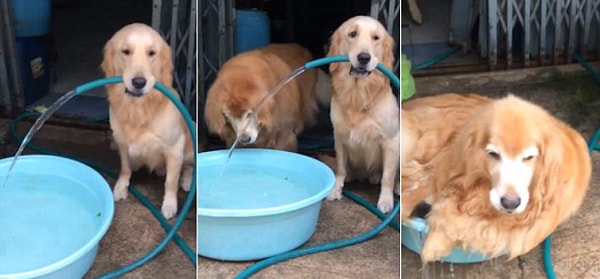 Video 1 – Smart Dogs Fill Up Their Pools
Watch how this one dog fills up the kiddie pool for his older friend.
Source: The DoDo
Video 2 – Smart Dogs Fill Up Their Pools
After 6-month-old golden retriever pup Maddie got a taste of the good life and experienced the afternoon in the kiddie swimming pool, she just couldn't wait to try it again.
Of course, when she went outside this weekend and discovered the tiny pool was empty, Maddie decided to take matters into her own hands — or paws. Refusing to wait for her owners to fill the pool with water, the very smart pup grabbed the garden hose and headed over to the pool.
Source: What's Trending
Video 3 – Smart Dogs Fill Up Their Pools
The best video of a dog filling up a kiddie pool yet. This dog does it all.
Source: Viral Spell
Are you looking for a dog? Why not get a rescue dog? Try PetFinder.com.
See more dogs enjoying the water. Click Here >